[CLOSED][GB] iNKY x Domikey Silent Desert Cherry Profile ABS Doubleshot Keycaps relegendable LED cover stickers
IMPORTANT NOTES
PAYPAL PAYMENT ONLY
IF THE ORDER IS PAID BY CREDIT CARD DIRECTLY, IT WILL BE CANCELLED AND REFUNDED.
ORDER CANNOT BE CANCEELED SINCE THE GB IS CLOSED
iNKY x Domikey Silent Desert Cherry Profile Doubleshot Keycaps
'Nature has introduced great variety into the landscape, but man has displayed a passion for simplifying it.'
'Dry', 'hot' and 'empty' are often used when people talk about desert. We are struggled to live in the desert.  Yes, there are many adventures and mysterious stories in the desert.  However, try not to forget how the desert extends. With the development of human beings, the natural resources are overused.
Here is the 3rd Silent ECO theme by iNKY Studio, Silent Desert. 
As iNKY indicates in their letter, they hope they can reveal and remind that those ecological factors are constantly eroding the beautiful things on our planet.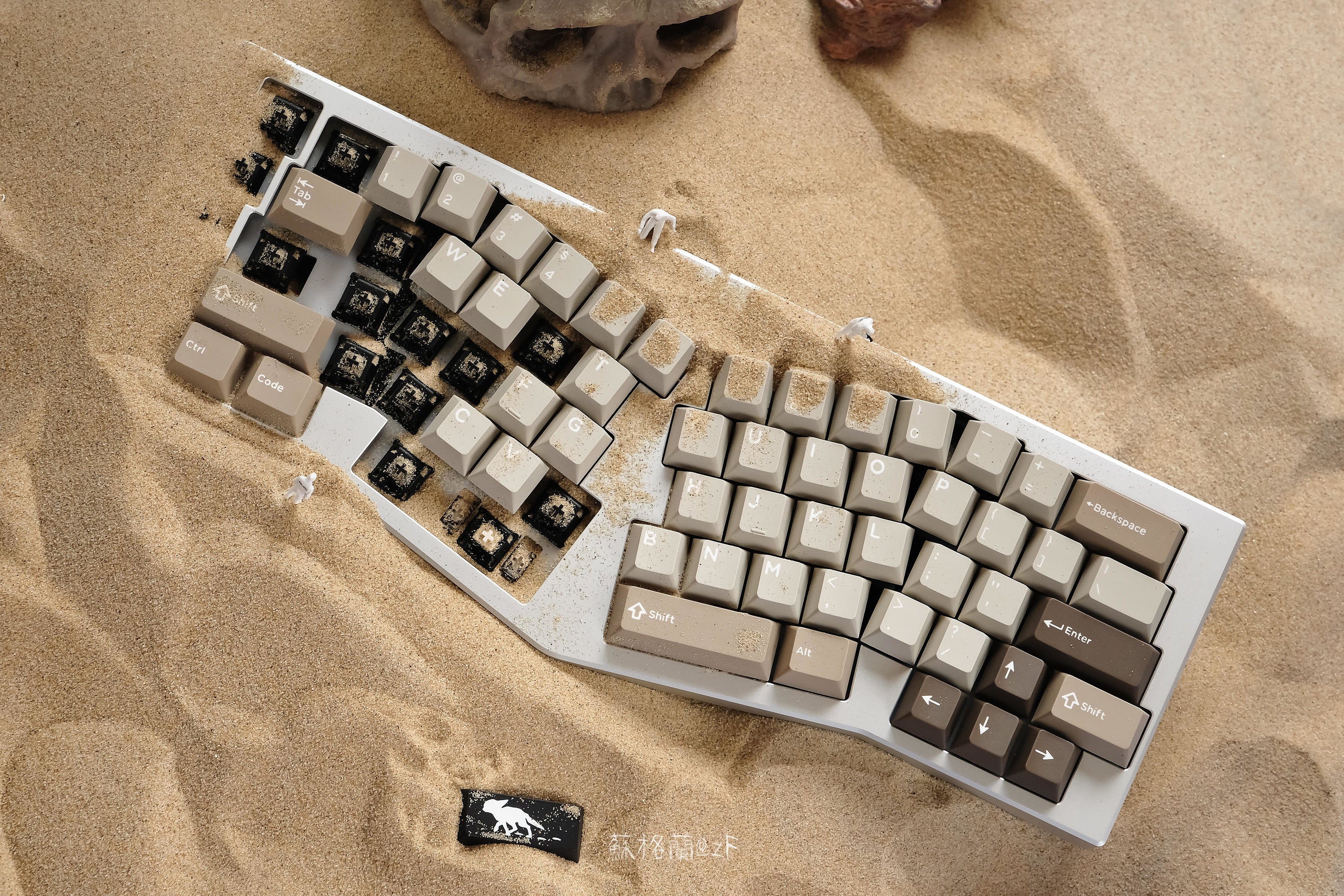 In Silent Desert theme, iNKY Studio uses Brown like colour to show the characteristics of desert. Meanwhile, they add a light-through window in the extra MOD keys, which seems like the few camps who are struggled to live in the desert.

Moreover, iNKY designs a set of novelty with a plastic cover. You can change the sign on the keycap. It is a trick design to show the 'good' side of the desert (adventures and mysterious stories)
Join KPrepublic Discord to follow the keycaps progress and chat with iNKY Studio.
GB close on 11th November (PST)
Estimated Delivery in April 2023
iNKY Studio prepares a gift for the one who buy the Base kit or All in one kit. A Special Novelty of Silent Desert!
---
NOVEL KTI AND LED KEYCAPS

In Silent Desert kit,  iNKY adds a few LED keycaps in R4 height and R2 height. Also, they add Relegendable keycaps and stickers to enlarge the Novel kit.
Novel keycaps are doubleshot as well.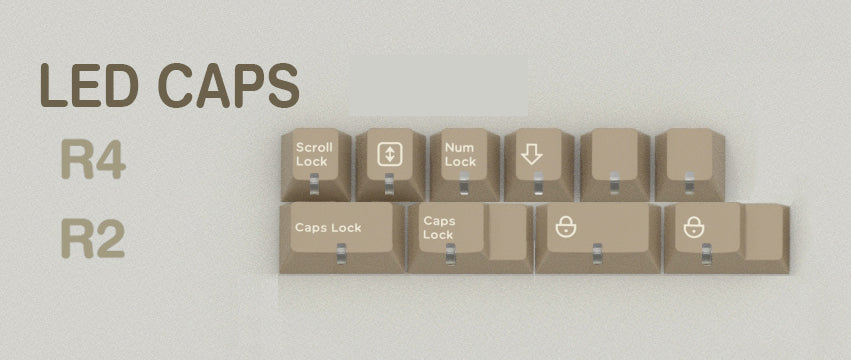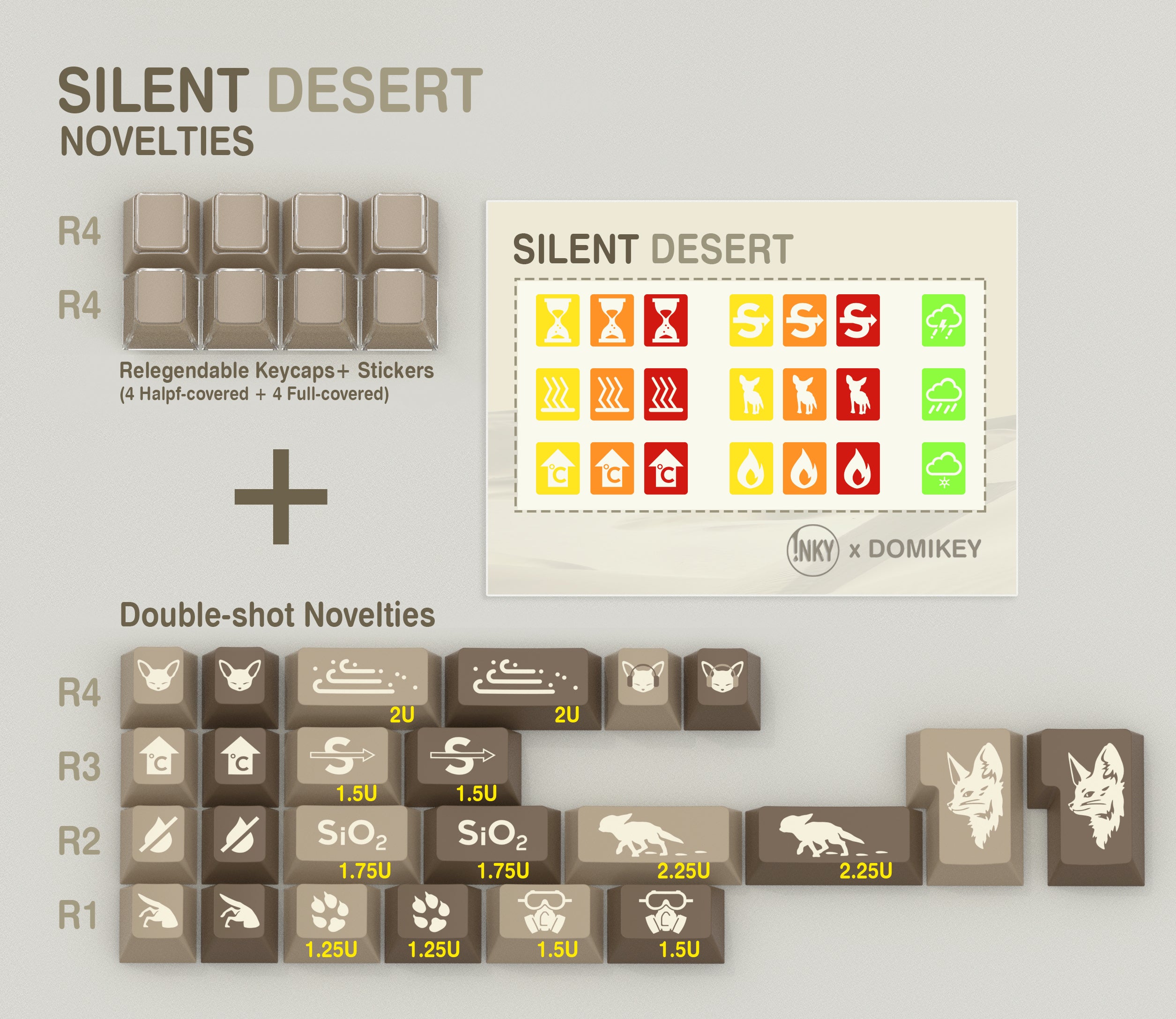 ---
SAMPLE PREVIEW
NOTE: 
The final keycaps are solid colour. 
The final MOD keycaps are icon without letters.
The sample is only for checking the colour scheme.