[CLOSED][GB] iNKY Studio GI-Inazuma theme Cherry Profile Keycaps 稲妻 Thunder Electro
IMPORTANT NOTES
PAYPAL PAYMENT ONLY
IF THE ORDER IS PAID BY CREDIT CARD DIRECTLY, IT WILL BE CANCELLED AND REFUNDED.
ORDER CANNOT BE CANCEELED SINCE THE GB IS CLOSED
iNKY Studio Inazuma theme Cherry Profile Keycaps
Inazuma, Japanese Kanji 稲妻, means Thunder. In the famous game Genshin Impact, it is used as a region name of the seven regions in Teyvat.
SPEC
Cherry profile
ABS doubleshot and tripleshot

Stripe bottom 
GB closed on 21st September (PST) 00:00
Estimated Delivery in December 
NOTE: For Inanazuma Keycaps group-buy,
- IF you buy all in one Miko set , All in One Raiden set or All in One complete set, you will get free FedEx shipping.
- IF you buy kit by kit, you cannot get free FedEx shipping.
- IF you buy All in One set and single kit, you need to pay the extra fee for FedEx shipping (fee starts from US$10)
KPrepublic is iNKY Inazuma groupbuy's global vendor. If you want to know vendors for specific area, please check iNKY GB page on geekhack.
The complete ALL-IN-ONE set is 10% off, compared with buying kit by kit.
Raiden All-in-one and Miko All-in-one set are 5%-off compared with buying kit by kit.
---
DESIGN CONCEPT
Everyone who has played Genshin Impact must have a deep memory of Inazuma's thunder, cherry blossoms and that bad fox lady.
From locking the country and hunting Visions to opening and prosperity of the country, we, as the traveller,  have experienced and witnessed them in person. Inazuman gathered their dreams to fight together against upper power, Raiden Shogun's self-denial and determination to wipe out old evils, and the final Devils' Night of Yae Miko to bid farewell to their old friends. Stories of hope shining in the dark. Their passion and strong heart and friendship make us moved.
iNKY team is one of those who are touched by Inazuman. The new project is born.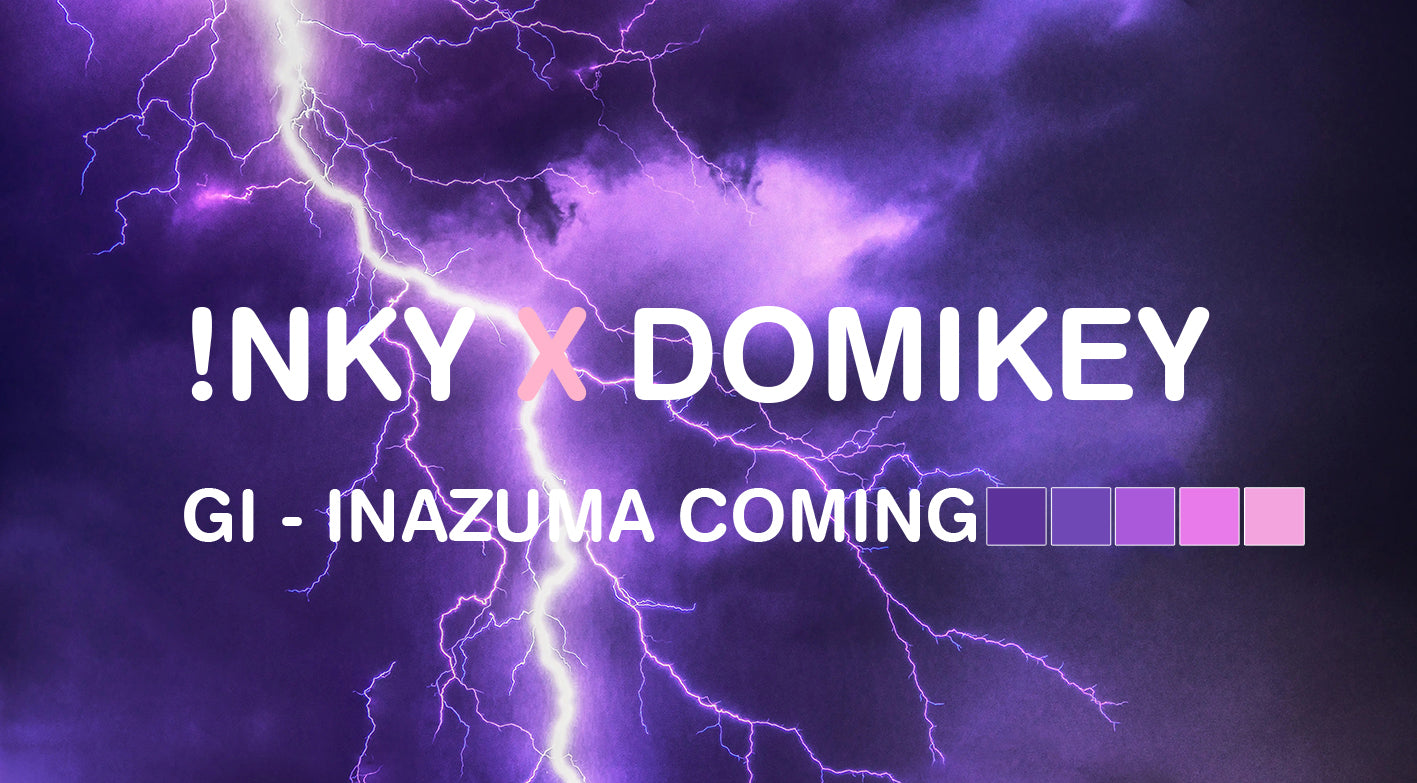 KEYCAP & COLOUR
As Inazuman learns Electro, iNKY studio uses purple and purple gradient colours as the main theme colour. Moreover, instead of Base, Alpha and novel, iNKY studio intends to give the kit specific name like
Musyo no hitotachi for Doubleshot base kit
Musyo no isshin for tripleshot base kit
Raiden Shogun for purple Novel kit
Yae Miko for peach-pink Novel kit
The keycap will feature in Cherry Profle and contain the doubleshot and tripleshot base kits.  iNKY gives the two kits different colour scheme to depict the spirit and characteristics of Inazuman. 
Join KPrepublic Discord and share your thoughts about iNKY's new design and talk with iNKY Studio.
---
KITS
Scrolling down, there are real keycap samples. 
---
Colour matching render preview
The below are some colour matching renders for keycaps. 
---
Keycap Real Samples